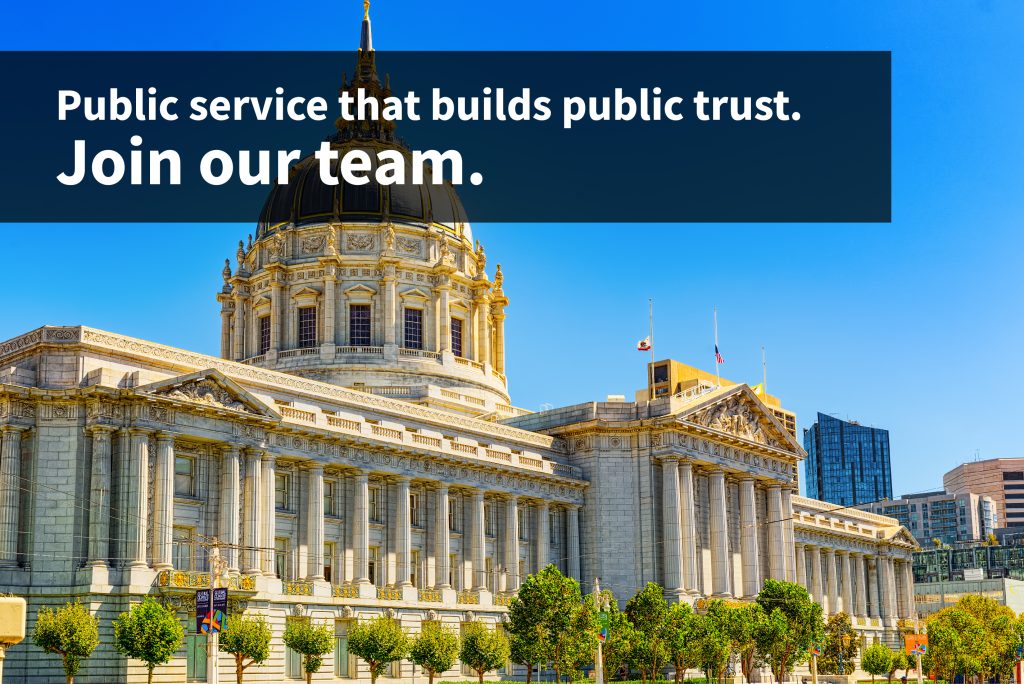 The Ethics Commission welcomes applications from individuals who have a strong desire to contribute as part of a diverse team to serve the public and help build the public's trust in government.
Our mission is to practice and promote the highest standards of integrity in government. We achieve that by delivering impactful programs that promote fair, transparent, and accountable governmental decision making for the benefit of all San Franciscans. With public service a public trust, our aim is to ensure that San Franciscans can have confidence that the operations of the City and County and decisions made by its officials and employees are fair, just, and made without any regard to private or personal gain.
If you share a commitment to clean and accountable government, enjoy working on challenging issues of critical importance, thrive in a dynamic work environment, and are willing to forego all local political activity while serving on the staff of the Ethics Commission, we invite you to apply to join our team. The following positions are currently available.
The Commission is committed to recruiting, hiring, and retaining and a diverse, collaborative, and high performing staff of individuals whose individual experiences, knowledge, and talents collectively drive achievement of the Commission's unique mission in San Francisco city government. We honor and value diversity, inclusion, and engagement, and are committed to promoting racial equity and to creating and sustaining a work environment that reflects and engages the diversity of our communities. Applicants who contribute to this diversity are strongly encouraged to apply. The Commission provides equal employment opportunities (EEO) to all employees and applicants for employment without regard to race, color, religion, sex, gender, gender identity or expression, national origin, age, disability, genetics, or any other protected category.
We appreciate your interest in the work of the Commission and look forward to receiving your application.