When and Where to Register
Each permit consultant must register with the Ethics Commission no later than five business days after providing permit consulting services.
Registration Form
Registration Report for Permit Consultants (SFEC Form 3410A) must be filed electronically through the City and County of San Francisco's DocuSign system by starting the form using the section below. The DocuSign filing process involves two key steps – completing the form and signing the form – which may involve two participants. The form allows a staff member or representative to initiate and complete the form electronically, and route it to the permit consultant for signature. After the form is completed and submitted in the first step, an email will be automatically sent to the permit consultant with instructions for his/her signature. The permit consultant can then electronically sign the form in DocuSign by following the instructions in the email. The permit consultant may also complete and sign the form without the assistance of a staff member or representative by entering his/her information in the fields below as the person completing and signing the form.
Click the image below to preview a form illustrating the information required to be disclosed. (Please note that this form is for viewing purposes only and that the electronic link shown below must be used to file the required information.)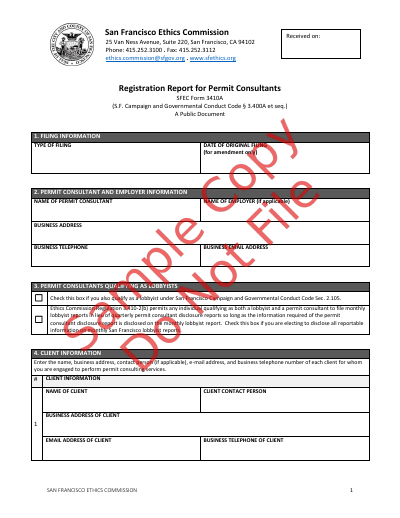 Supplemental Sheet Templates
If there is not sufficient space in the DocuSign Registration form to report the complete list of clients, use one of the templates below to attach additional clients to the filing. On SFEC 3410A, check the box to add additional client sheets and upload the supplemental client list. You may use the template in Excel or PDF format to report additional clients.