Lobbyists on Behalf of the City must file a "Quarterly Report of Lobbyist on Behalf of the City" each quarter in which they meet the qualifying threshold.
Filers must report the all financial expenditures by the lobbyist in connection with representing the City & County of San Francisco, the individual or entity to whom each expenditure was made, the date the expenditure was made, and specifically identify the local, State, regional or national legislative or administrative action the lobbyist supported or opposed in making the expenditure.
The failure to file a quarterly report with the required disclosures is a violation of the Sunshine Ordinance.
Filing Deadlines
The quarterly reporting periods and deadlines are as follows:
| Reporting Period | Filing Deadline |
| --- | --- |
| February 1 to April 30 | May 15 |
| May 1 to July 31 | August 15 |
| August 1 to October 31 | November 15 |
| November 1 to January 31 | February 15 |
Electronic quarterly reports must be received by the Ethics Commission no later than 11:59 p.m. PST on the filing deadline.  Filings that are due to the Commission on a Saturday, Sunday, or City-recognized holiday but filed no later than the next business day will not be assessed late filing fees.  The quarterly report must be filed electronically beginning with the report due February 15, 2019.
Disclosure Report
Click the image below to preview a form illustrating the information required to be disclosed. (Please note that this form is for viewing purposes only and that the electronic link shown below must be used to file the required information.)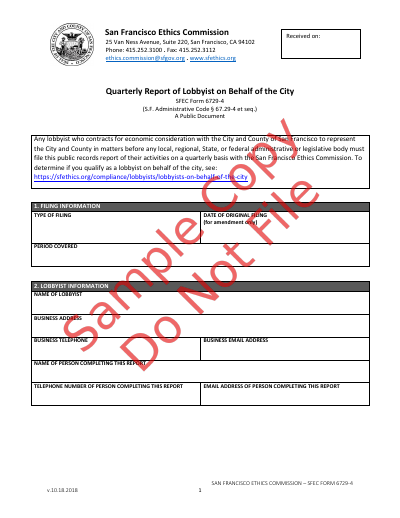 Filing Under Penalty of Perjury
Filers must verify, under penalty of perjury, the accuracy and completeness of the information required to be filed with the Ethics Commission.
Filing Amended Forms
If a filer submits a report to the Ethics Commission which contains an error or omission, the filer must amend the report.  The Quarterly Report form includes a field which filers may use to indicate they are amending a form which has been filed previously.
Enforcement