A donor must file Form SFEC 3620 if he or she makes a behested payment, or series of behested payments in a single calendar year of $10,000 or more at the behest of an officer. The donor only needs to make this disclosure if the donor is an "interested party" in a proceeding involving the officer that solicited the payment(s).
If a donor has previously filed a Form SFEC 3620 and during the same calendar year, subsequently makes an additional behested payment at the behest of the same officer, the donor must file an additional For SFEC 3620 only if the donor has become involved in additional proceedings or made additional contacts that were not disclosed pursuant to section 3.620(a)(1)-(3) on the initial Form SFEC 3620.
Under City law, these donor filing requirements apply to donors of payments behested by elected officials and board and commission members only.  Mayoral Executive Directive 20-02 does not apply a donor filing requirement for payments behested and reported by Department Heads, therefore a donor is not required to file a Form 3620 for a payment behested by a Department Head.
Behested Payment 
"At the behest of" means under the control or at the direction of, in cooperation, consultation, coordination, or concert with, at the request or suggestion of, or with the express, prior consent of. However, a contribution is not made at the behest of a public official if the official requested the contribution via television, radio, billboard, a public message on an online platform, the distribution of 200 or more identical pieces of printed material, the distribution of a single email to 200 or more recipients, or a speech to a group of 20 or more individuals.
Interested Party
An "interested party" is a person who is a party, participant or agent of a party or participant to certain types of proceedings before the official in question. Those proceedings are limited to administrative enforcement proceedings and proceedings regarding permits, licenses, or other entitlements for use. A party to such a proceeding is someone who files an application for a license, permit, or entitlement for use or is the subject of the administrative enforcement. A participant in such a proceeding is someone who is not a party to the proceeding but who actively supports or opposes a particular decision in the proceeding and has a financial interest in the decision. An agent is someone who represents a party or a participant in such a proceeding.
Payment
A "payment" is a monetary payment or delivery of goods or services.
Click the image below to preview a form illustrating the information required to be disclosed. (Please note that this form is for viewing purposes only and that the electronic link shown below must be used to file the required information.)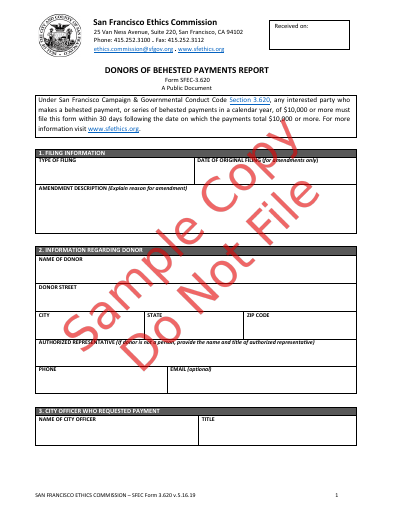 Was this page helpful?