Please Note: Effective January 23, 2022, San Francisco City law bans certain officials, including elected officials, from soliciting any behested payments from persons defined in the law as an "interested party." For more information click here. San Francisco elected officials who solicit behested payments from a person who is not an "interested party" under local law must continue to comply with applicable State disclosure requirements described below.
Filing an Amendment
To amend a previously filed Form, you will initiate a new Form through the same online portal that you initiated the original filing. You will need to complete all sections of the form as you did prior, except with the correct information, and in the first portion of the form (Section #1 Filing Information), complete as follows:
Under Type of Filing, you will select "Amendment" from the drop down menu;
under Date of Original Filing, enter the date of the original filing that you are amending;
in the next field Amendment Description, enter the reason for the amendment.
—
Click the image below to preview a form illustrating the information required to be disclosed. (Please note that this form is for viewing purposes only and that the electronic link shown below must be used to file the required information.)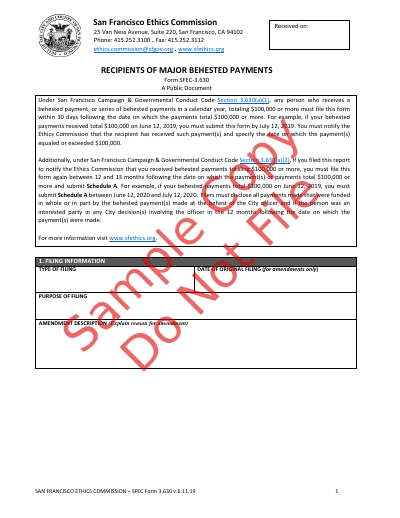 Was this page helpful?