We're pleased to announce the release of a new campaign finance search and data visualization tool in partnership with our colleagues at DataSF. This new tool, available at the SF Open Data portal, allows users to visually explore contributions to candidate and ballot measure campaigns in San Francisco with an intuitive and easy to use interface.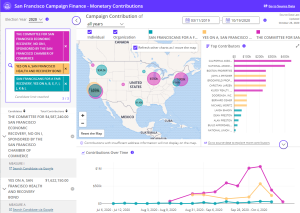 Read more about the new campaign finance tool on DataSF's blog post and explore the source of money for candidates and ballot measures in the November 3, 2020 election by visiting the SF Open Data portal
Was this page helpful?