October 6, 2023
To: Members of the Ethics Commission
From: Patrick Ford, Director of Enforcement
Subject: Agenda Item 5: Quarterly Enforcement Report
Summary and Action Requested
This report provides general programmatic updates and data about the cases handled by the Commission's Enforcement Division.
No action is required by the Commission, as this item is for informational purposes only.
Cases Resolved
Fiscal Year 2024
So far in Fiscal Year 2024 (July 1, 2023 – October 6, 2023), the Enforcement Division has concluded a total of 18 enforcement matters. Three of these matters resulted in stipulated settlements approved by the Commission. In total, these settlements represented penalties of $51,525. Data about cases resolved in previous fiscal years is provided below.
Cases In Progress
So far in FY24, 33 enforcement matters have been initiated. The majority of these (25) began from complaints that the Commission received from the public, but this also includes 8 matters that the Division initiated based on media reports, observations in public disclosures, independent research, findings from audit reports, and interactions with regulated persons. One matter was initiated based on a referral from the Controller's Whistleblower Program. Most of these matters initiated in FY24 remain in progress while four have already been resolved.
In total, 43 matters are currently in progress, including matters that were initiated during FY24 and matters that were initiated in prior fiscal years. Of these matters, 21 are in preliminary review, and 22 are open investigations.
The current cases in progress are broken down by program area in Charts 1 and 2 below.
Chart 1 – Matters in Preliminary Review by Program Area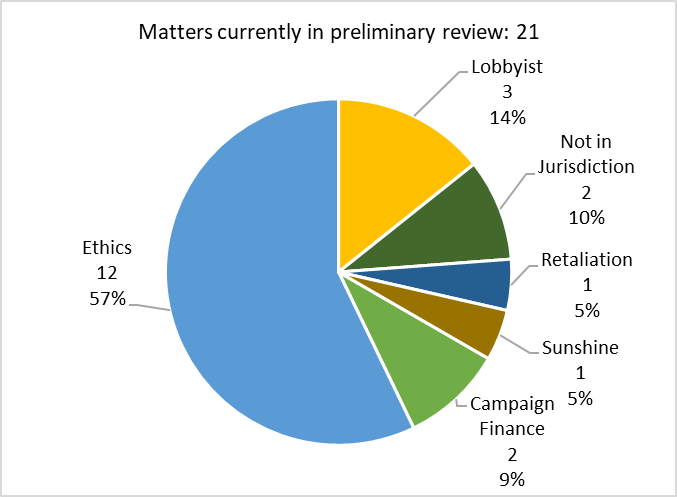 Chart 2 – Open Investigations by Program Area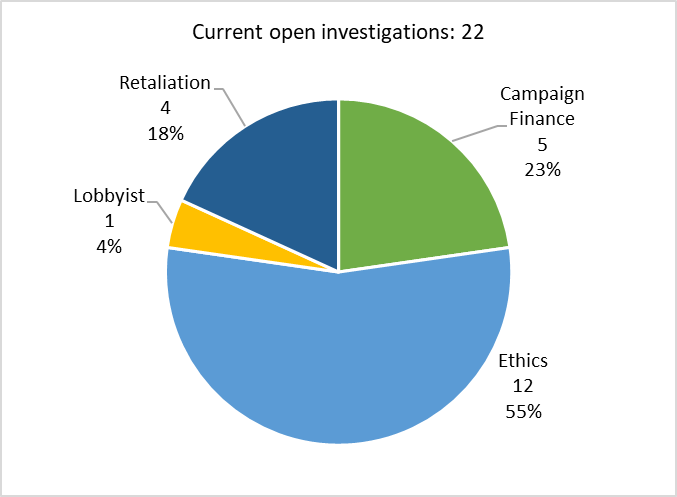 Case Closure Plan Fulfilled
In 2020, the Enforcement Division adopted a case closure plan for the purpose of resolving the Division's backlog and completing cases in a more timely fashion moving forward. The Plan was adopted following recommendations from the Budget and Legislative Analyst. The deliverables in the plan were to resolve cases in less than two years (including resolving all cases that were already two years old), complete all preliminary reviews in less than three months on average, and to use SARP to resolve simpler cases in six months or less on average. At this time, the Enforcement Division has achieved the goals of the Case Closure Plan.
Only one of the 22 open investigations (5%) is more than two years old. This case, In the Matter of Paul Allen Taylor, Case No. 20-243/1920-031, is currently pending an administrative hearing before the Commission. Once this case is resolved through a hearing, there will be no more cases remaining that are more than two years old. For reference, at the time of the last Enforcement Report in June, four of the 23 open investigations (17%) were more than two years old, and in May 2022 twelve of 48 investigations (25%) were more than two years old.
In the past 12 months, the Division completed preliminary reviews in 77 days on average, which is within the three-month average target. Similarly, in FY23 thirteen cases were resolved through the SARP program and were resolved in 153 days on average, which is less than the 6-month target. Although the primary purpose of SARP is to increase efficiency by reducing the amount of staff resources that must be devoted to resolving simpler cases, the program has the added benefit of often resolving those cases on a faster timeline.
The Division will continue to strive to meet the objectives first identified in the Case Closure Plan, and the protocols contained in it have been subsumed into the Division's standard operating procedures. It is possible that at times some cases may take longer than two years to resolve if certain situations arise, such as respondents pursuing all available due process rights, respondents or other sources not readily releasing evidence, complex factual investigative work, coordination with another law enforcement agency, and investigative holds requested by the District Attorney or City Attorney. But cases taking more than two years to resolve should be uncommon.
Case Resolutions – Fiscal Year Comparison
The Division's completion of the Case Closure Plan, adequate staffing, and initiatives undertaken in FY22 and FY23 have improved the Division's overall effectiveness. The initiatives completed in FY23 included the launch of the new case management system, developing investigator specializations, standardizing and utilizing the probable cause and hearing process, documenting investigative protocols, and increasing proactive enforcement work. The following figures compare past fiscal years to help gauge the Division's effectiveness over time.
Chart 3 – Number of Investigations Opened (by Fiscal Year)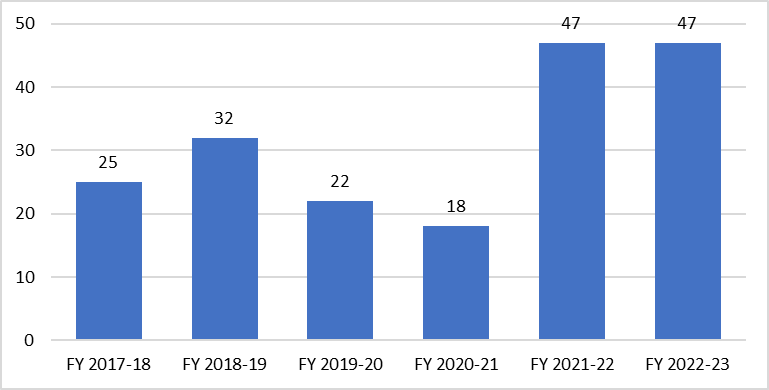 Chart 4 – Number of Investigations Resolved (by Fiscal Year)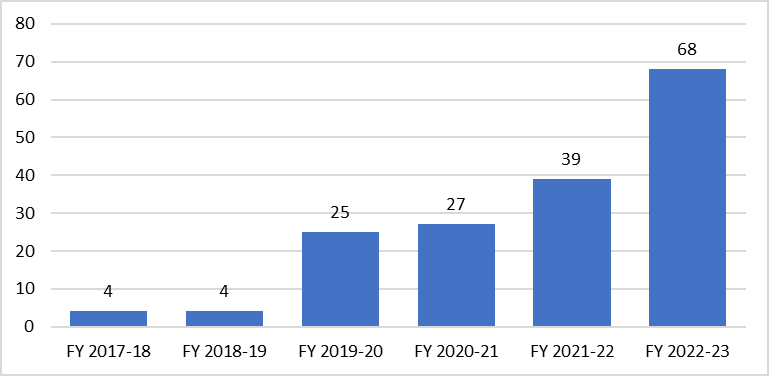 Both the number of investigations opened and the number of investigations resolved each fiscal year were higher in FY22 and FY24 than in previous years. This indicates an increased capacity to complete preliminary reviews and identify potential violations, as well as an increased capacity to complete the investigation in a timely manner. The higher number of cases resolved than cases opened in FY23 is the result of many older cases being worked to completion and the final elimination of the enforcement backlog.
Importantly, the total amount of penalties issued each fiscal year has also increased. This indicates that, while some cases are closed for lack of evidence indicating a violation, violations are proved in many other cases and are being pursued to an effective conclusion.
Chart 5 – Cumulative Penalties, and Number of Cases in which Penalties were Imposed (by Fiscal Year)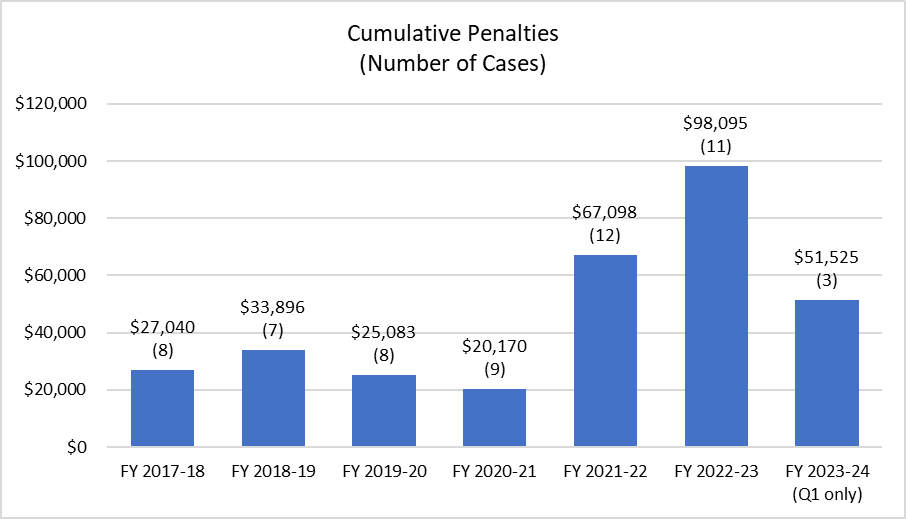 The recent increase in total penalties can also be seen in the list of the Commission's highest penalties since its inception. Of the 18 cases in which penalty of $9,500 or more was imposed ($9,500 being roughly double the average penalty size), 10 of the cases were in FY22, FY23, or FY24 and are indicated in bold in Table 1.
Table 1 – List of Ethics Commission Penalties of $9,500 or more
| | | |
| --- | --- | --- |
| Date | Respondent | Penalty |
| 9/26/2016 | Lynette Sweet | $74,409 |
| 10/4/2003 | Kamala Harris for District Attorney; Kamala Harris | $34,000 |
| 6/9/2023 | Progress San Francisco, Vince Courtney, Jr., and Shawnda Deane | $29,300 |
| 8/18/2023 | Frank Fung | $24,200 |
| 8/13/2021 | London Breed | $22,792 |
| 7/8/2022 | Darryl Honda | $22,200 |
| 5/13/2022 | Barbara Mumby | $20,000 |
| 11/14/2011 | Mak '06 Committee, Jaynry Mak, and treasurer Frances Hsieh | $18,000 |
| 6/12/2006 | Andrew Lee for Supervisor and treasurer John Barry | $17,000 |
| 11/20/2017 | Eric Mar | $16,690 |
| 7/14/2023 | Gwyneth Borden | $16,000 |
| 12/12/2005 | Coleman Advocates for Children and Youth | $15,840 |
| 5/5/2023 | Victor Makras | $14,500 |
| 6/11/2021 | Amy Lee and Mark Luellen | $12,670 |
| 1/18/2019 | John Avalos | $12,146 |
| 8/18/2023 | San Francisco Bicycle Coalition, San Francisco Bicycle Coalition Education Fund, Brian Wiedenmeier, Janice Li | $11,325 |
| 8/13/2021 | Yes on Proposition V and Rebecca Olson | $10,163 |
| 5/5/2023 | Yakuh Askew | $9,500 |
This fiscal year performance data helps the Enforcement Division assess the effectiveness of its operations and ensure that its ongoing initiatives are supporting the Commission's enforcement mandate. Initiatives that have succeeded in improving the Division's performance will be carried forward into future fiscal years and will also help inform new initiatives in FY24 and beyond.
FY24 Initiatives
Building on the progress achieved in FY23, the Division will undertake new initiatives in FY24 that will further expand the Commission's enforcement capacity and increase the variety, complexity, and volume of cases handled by the Division.
Develop and Implement Protocols for Proactive Enforcement – The Division has begun to increase its proactive enforcement work, which is when investigators initiate enforcement matters without receiving a complaint. The Charter provides for this proactive work to take place, and it is an important way to ensure that violations that are apparent from disclosure filings, public records, or media reports are investigated appropriately. Already in FY24, the Commission has imposed penalties ($24,200) in a case that arose from proactive investigative work, In the Matter of Frank Fung. Refining, standardizing, and expanding this aspect of the Division's work will be a major focus of FY24.
Refine and Carry Out Probable Cause Proceedings and Administrative Hearings – The Division will continue its work refining and carrying out administrative hearings to resolve more complex or contentious cases. These processes are core features of the Commission's role as an administrative enforcement body, a role that was established in the City Charter when the Commission was first formed. Hearings provide a way to resolve cases in which settlement is not feasible.
Develop, Document, and Implement Late Filer/Non-Filer Protocol – In Partnership with the Engagement and Compliance Division, Enforcement is currently creating new processes for identifying and assessing penalties against individuals who fail to file required disclosures with the Commission or who file late. The processes will prioritize efficiency, since the Commission no longer has a Fines Collections Officer, and will seek to focus resources on more severe or repeat violations.
Begin Initial Stages of Reviewing SARP Program and Enforcement Regulations – The Division is targeting a full review of the SARP Program and the Commission's Enforcement Regulations in FY25. To prepare for those projects, investigators will begin developing methods to gauge effectiveness and begin reviewing practices in other jurisdictions.